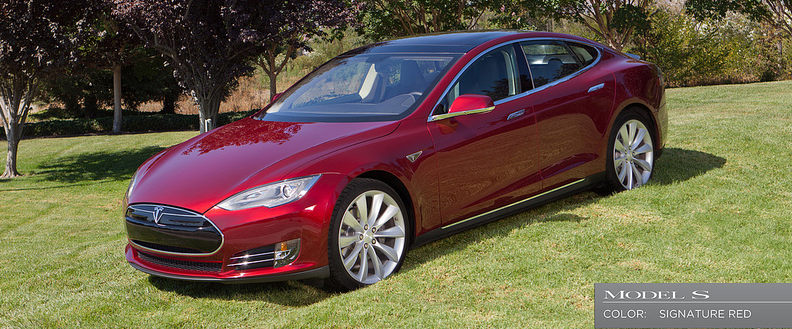 The investor of today does not profit from yesterday's growth. — Warren Buffett
If you are wondering, the title indeed  is dubious. And that's by design. I am not suggesting that buying a Tesla car may make you rich. At the hefty price tag, it can certainly make you feel rich. But, I believe that instead of buying a car, if you invest in Tesla stock, it may make you rich.
Tesla cars are the sexiest cars ever built: Well, that may be bit of an exaggeration but they are not only making buzz among car fanatics but also among the movers and shakers on the Wall Street. Albeit Tesla is not the first one to build an electric car, it surely has done with finesse and marketing muscle that no other car maker has done before.
I am a firm believer that politics, as usual, hardly solves mankind's pressing issues. Having an alternate to gasoline is one of those issues. While both political parties have delivered not much than empty rhetoric, Tesla has already become a change agent for this pressing issue.
 5 Reasons to Invest in Tesla Stock
1. Fundamentals are improving
A quick look at Zach's stock screen indicates that although the company is still losing money, all financial indicators are trending in the right direction. Sales growth has accelerated to over 1700% year over year while EPS(Earnings per share) has doubled that from last year. In addition, quick ration — a measure that shows company's short-term liquidity strength — has risen steadily.  Not to mention, both ROE(an important measure for a growth stock) and inventory turnover ratio are improving due to increasing demand for Model S cars.
 2. Charts don't lie
The market sentiment for this company has never been better before. The stock has more than doubled in value just in last three months. For now, it may pose risk of a decent pullback, I see that the stock should have good support in the $90 range. With several new models in the pipeline — especially a smaller version which will be affordable to middle-class families — and the positive press about Tesla cars in general, future is anything but promising for this stock.
Also, the float(total numbers of share available for investors) is only 80 million shares. A smaller float always helps stock propel higher in growth phase as demand for the shares outgrows supply.
3. It has brilliant leadership
Elon Musk has proven many times that he knows how to achieve success with relentless pursuit of knowing what marketplace needs and adding a marketing brilliance to skyrocket that success. He did that with PayPal when most people didn't trust transactions on the Internet.
Unlike others who have failed to sell electric cars to masses, he has learned from those failures and, so far, has skillfully positioned Tesla Cars as the dominant leader in the electric car niche.
I believe that quality of management plays greater role — when it comes to groundbreaking, up and coming companies — in shaping fate of that company than even product itself. Without a great vision and flawless execution, even the most promising company can fail miserably.
Management, led by Elon Musk,  owns 30% of the company. That's the another reason to feel good about its future.
I love it when naysayers say that Elon's Hyperloop idea is insane. That proves that he is powerful enough and there is no dearth of people who lack vision.
4. Both Left and Right are happy
We all know that both left and right are stalemate at best. While gasoline price plays a crucial role in the public sentiment about the state of the economy, and that both parties agree that our dependence on foreign oil doesn't make sense for our national security and economic well-being as a nation, both have starkly opposite view of how our nation should deal with this issue.
Enter Tesla cars. This company excites both Red and Blue as it is a symbolic American entrepreneurial story in making for the Red and it is a rising green, eco-friendly company for the Blue.  Very few businesses get love from both sides of the political spectrum and Tesla is certainly one among them.
5.  Consumers love it.
I live in Atlanta so I know that when Clark Howard — a long time consumer advocate and a very thrifty fellow — bought Tesla, savvy consumers alike will follow his footsteps.
And it's not just Clark, AutoGuide's consumer reviews indicate a pattern in making. It reminds me of early days of Amazon. Amazon built a loyal customer base by focusing on amazing, easy to purchase a book experience on the Web. This company is skillfully building a similar customer base.
The road ahead is anything but challenging for Tesla cars or any of its competitors since there is still a degree of skepticism among Americans due to lack of modern charging stations and long-term maintenance, not to mention resale value of the electric cars in general. Nonetheless, if you believe in American entrepreneurial spirit and if you have few thousands laying around in your savings account, It may be more exciting to ride this smooth engine as it makes uproar for some time to come.
After the Roadster, so many people called bullshit on the Model S it was ridiculous, but then we brought it to market. Then they said you'll never make a profit, and then we did that. So I hope they will observe there is a trend here. — — Elon Musk
Disclosure: I have no position, at the moment, in Tesla stock. This is solely my opinion. You may want to consult a financial adviser before making any investment.
Addendum: In early June, right after publishing this article, I have purchased TSLA shares at $90.75.