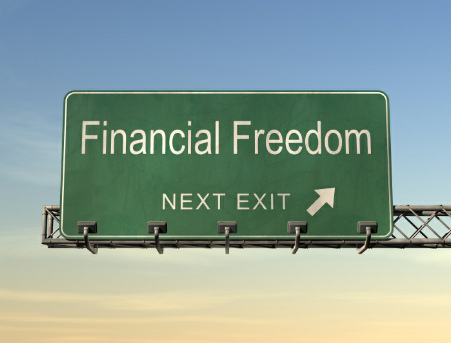 Whenever you find yourself on the side of the majority, it is time to pause and reflect. — Mark Twain
"Hey, I'v been making six-figure income for the last three years, yet I can't find ways to save for my retirement," asked a friend of mine. He is an intelligent fellow, and a technology maven.
Soon, I searched for this epidemic on the Internet and found that my friend is not a lone warrior. I called my friend back and asked him to send me his top 3 spends for the last month. It didn't take long for me to email him with this message — Trade your way to financial freedom.
Friend: I am not a trader. What do you mean by trade your way to financial freedom?
Me: I know that. I am insinuating that you need to trade your way of  institutionalized thinking for one that allows you to achieve financial freedom.
Institutionalized thinking
This friend of mine spent $1800 for an expensive watch, $1200 for two pair of designer suits and $2800 for a four night vacation in Caribbean islands. That represents over 60% of his take home salary.
When I asked him about these purchases, his answers were by-product of the institutionalized thinking.
Like those prisoners in the movie Shawshank redemption , even smart people think that their survival and success is rooted in a system. They feel trapped in this psychological imprisonment, so they spend money on expensive things to maintain a high paying job.
They dare not to challenge this status quo with the fear that challenging the system to keep up their professional image may pose risk to their six-figure income.
The truth can't be any further than this kind of  psychological imprisonment to maintain lifestyle that's nothing short of a high-speed financial train wreck.
Make a pledge not to spend more than 20% of your after tax pay.
Most people are not saving enough not because they don't make enough; they don't save enough because they spend too much. And we don't have to look elsewhere for a worthy example. Ever since Uncle Sam has started spending over 20% of our national GDP in last three years, our deficit has ballooned from $9 trillion to $16 trillion in just last three years.
No matter how much you make, the very first step to your financial freedom is to allow yourself not to spend over 20% on discretionary spending.
Keep list of things you want to buy in the order of importance. Like an asset allocation, it's smart to allocate spend money for different categories to not overspend or splurge on one thing that can eat up most of your discretionary spend budget.
Pay yourself first.
One of the best ways to accelerate your journey towards financial freedom is to pay yourself first, and that applies to any bonuses and/or salary increases you receive every year.
If you save every salary increase and bonus, you will learn to squash the bug of living like Joneses as you move on the higher income scale.  Start saving at least 20%,  and keep adding every pay increase and bonus to your savings.
The gist of the trade your way to financial freedom lies in the belief that if you lived happily when you were making much less, you can still live happily pretending that you are still making much less.
Think and act like a minimalist.
You don't have to think about minimalism as a way of deprivation. Instead,  if you introspect the rooted principles of minimalism, it leads to a simple and fulfilling life by eliminating not only physical clutter but also mental clutter.
Minimalism allows you to trade your way to financial freedom by introspecting every financial decision based on intrinsic happiness and not on acquiring materialistic possessions.
After all, happiness comes from within and not from mindless spending and living like Joneses.
Readers:  Have you looked at your three major spends lately? Have set any rules to keep spending within your set limit?
 Elsewhere:
 I make $100,000 and live paycheck to paycheck @ Your Smart Money Moves
 5 places you are not looking for your content ideas @ Modest Money
7 reason why you don't have any money @ So Over This
Why do poor people have two or more flat screen TVs @ My Money Design
 Photo by: Dora_Sue