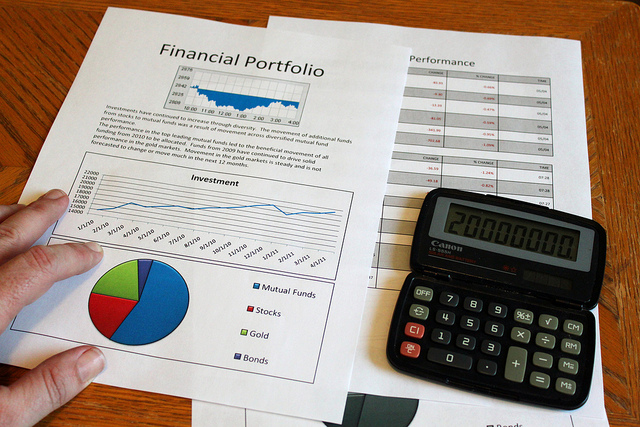 Whether we're talking about socks or stocks, I like buying quality merchandise when it is marked down. — Warren Buffett
There is no doubt that both value and growth investing styles have their share of staunch followers.
Those who believe in Graham and Warren Buffett's value investment style believe that growth investing is for roulette players. On the other hand, growth investors believe that value investing is a thing of the past with mediocre return at best for the serious investors.
Wouldn't it be nice if you can find the best investment strategy that combines best of value and growth strategies?
As paradoxical it sounds, you can create your own fund to invest for growth and dividend income. You can devise your own asset allocation strategy to invest in growth stocks with consistent dividend income, an inflation resistant index fund, and precious metals such as gold and silver.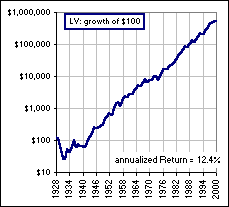 Let's assume that you have $50,000 to invest. What would be your best investment strategy to generate income while growing your portfolio faster than what you can expect by investing in value stocks?
The key is to find Large Cap Value stocks with consistent growth potential for long time.
As you can see in the chart, $100 invested in the Large Value stocks would have become close to cool one million dollars between 1928 and 2000.
Depending on your age and capacity to take risk, the best investment strategy would be to allocate up to 40% in Large cap value stocks with consistent dividend history and incredible competitive advantage, 30% in the Vanguard Index funds, and the rest in the precious metals.
There are many great large cap value stocks with consistent growth and dividend income to choose from.
1. Apple
I am a die-hard Apple fan. With that said, Apple is probably the best large cap stock with incredible growth potential in the current market.  Apple holds largest market capitalization ever!
I've written several articles to articulate why I like Apple. I consistently invest in Apple stock when market beats it down. For the last three years, I have snatched Apple shares when it fell for more than 10% from its current high. Why?
Not only Apple pays $10.6 per share just in dividend a year, it will also repurchase $10 billion worth of shares from the market. Not bad for the stock that has gone from $7.37 on August 1, 2002 to over $665 in 2012. Your $7K investment would have been worth around $665,000 in just 10 years.
With amazing products such as iPhone5 and Apple TV in its war chest, and forward P/E of less than 10 for a company that's growing both the top line revenue and EPS like a small growth company, you have best of both worlds with Apple stock.
 2. Johnson & Johnson
There aren't many pharmaceutical companies in the world with the kind of competitive advantage JNJ has. The maker of band-aid also has over 90% market share in the surgical sutures and needles used by hospitals around the globe.
For almost 50 years, JNJ has consistently increased dividend at an average 7% per year. If you include the fact that stock has gone up $39.54 to $68 in 10 years, you've found an investment generating over 15% return for the past lost decade.
3. IBM
Big blue has transformed itself into a technology behemoth that grows its dividend at 17% annually for the last decade. With its increasing cash flow due to focus on the consulting and software services business, IBM is projected to increase its dividend at 21% in the next decade.
Add to that the fact that its share price has gone up from $59.26 to almost $200 in a decade, you've a solid investment generating more than 20% annually for the lost decade.
How about Gold and Silver?
What's the best time to invest in gold and silver? With the jitters in the global markets, now is the best time to allocate portion of your investment into precious metal.
Whilst it might be a good time to invest 10-20% of your money in gold via sites such as bullionvault, for example, it's safer to stay away from speculative investment like buying currency within the forex market. Gold and Silver ought to act as hedge against market uncertainty and asset protection.
Index Funds
My pal Jim has written an amazing article about VTSAX(Vanguard Total Market Index Fund), so I can't do a better job of dwelling into it. But, I have found another gem lately for those who seek lower expense ratio and better return on their investment.
As most of us are not good at knowing when to invest in a bond fund, Vanguard offers inflation-protected securities fund for those who want to invest in bonds without knowing how to.
This fund has doubled in value in the past 10 years with an annual return of over 8% per year. Although I have not invested in this fund yet, I am going to do so in the near future.
The best investment strategy is to protect your investment first, and find ways to generate better return than the so-called market experts.
While it seems like a difficult  feat to achieve, you can beat the market if you do your own research and invest with a street smart approach without allowing others to influence your investment decisions.
Rule No.1 is never lose money. Rule No.2 is never forget rule number one. — Warren Buffett
Readers:  Have you thought about the best investment strategy to generate both income and growth?
Elsewhere:
Cut Your Losses Mark Cuban @ Buck Inspire
Thoughts About Investing @ Modest Money
 What Phase of Investing Are You In? @ Work Save Live
Asset Allocation Models @ My Money Design
Attention Allocation: Applying Portfolio Investment Strategy to Information Overload @ Pick the Brain
Photo by: rhome_music;  Chart photo by: gummy-stuff.org