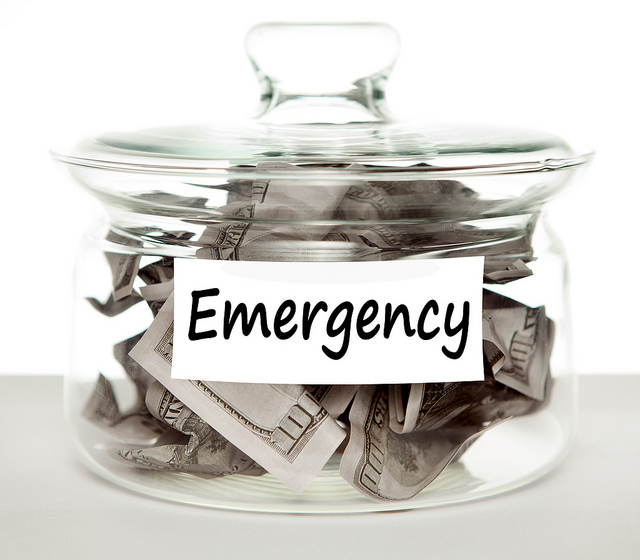 Most people can do extraordinary things if they have the confidence or take the risks. Yet most people don't. They sit in front of the telly and treat life as if it goes on forever. — Philip Andrew Adams
'An emergency fund' is an omnipresent phrase in the blogoshpere. Most personal finance blogs discuss the need to have an emergency fund for all the valid and obvious reasons. I get it. Nonetheless, seldom I see the other side of the argument.
I found an article written by Jeremy so engaging as it resonates well with my own life.
I came to America almost 20 years ago with a dream and $20 in my pocket. I wanted to build self-confidence to prove myself that you can fly from one corner of the world to another and build success from scratch. If I waited to build an emergency fund to fuel my dreams, I doubt that I'd have dared to write this article.
Before you nod your head in disbelief, I am not subscribing to an irrational approach of financial recklessness.
I believe that building your self-confidence is infinitely more important than building an emergency fund. Think about it. Most immigrants — I am one among millions — come to this great nation and build their financial future by savings as if there is no tomorrow and taking risk to invest their capital instead of playing too safe by keeping large sum of cash in their savings account.
1. It can work against your dreams
Why you need a rainy day fund? It's to insure, to some degree, that you can deal with an adversity. Most of us are poor at judging our future, let alone judging unforeseen need for a rainy day cash to deal with unplanned expenses. It's very hard to know how much cash you will need for such an event.
If you are building a large sum of an emergency fund, you are sabotaging your dream to either start a business or to take healthy risk by investing your capital into an investment so that you can focus on generating steady stream of income from various sources. These income sources can become your pseudo emergency fund.
Have you ever witnessed a rocket launch?  Your emergency fund is nothing more than a launcher for your dreams. Once it fuels your dreams, let your dreams fund money for the unplanned events in your life. You need cash initially for the first few years in the business to let it grow, but having a huge sum of cash in your savings account is self-limiting to your desire to think big in the long run.
2.  It can hamper your financial growth
Those of us who keep a large sum of cash often don't consider two factors working against our financial growth — Inflation and Uncle Sam. Most savings accounts return on average much less than the rate of inflation. Your sense of financial security is thus costing you thousands of dollars in the long haul.
American tax code is written heavily in favor of those who are risk takers — by investing in businesses and real estate. If you choose to have your cash in the bank, it's not only losing value every year but also making your silent partner happy.
It's obvious that if you are doing well financially then it's better to allow cash flow from various sources of income to fund unexpected expenses. "But what if you are dealing with credit card debt?," You might ask. If that's the case then it's even better reason to pay off debt before thinking too much about an emergency fund. You can always use instant cash from your credit card than to have cash set aside while you are paying insanely high rate of interest on your credit card.
It's important to build self-confidence by building assets that are appreciating in value in the long run than to focus on building a cash reserve. I've never even consciously thought about having a rainy day fund in a long while. My focus, instead, has been to live modestly while building the portfolio of various assets that can provide cash flow to live happily.
If you save as if every day is your last day at the job, you can instead focus more on taking calculated risks to invest your hard-earned money to generate cash flow. You can auto pilot the entire concept of an emergency fund with that approach. Do you agree?
Readers: Have you ever given thought to the ideal amount you need in your savings account? Or do you really need a rainy day fund at all? Do you have plan to retire the concept of the rainy day fund?
Elsewhere:
Does Everyone Need an Emergency Fund? @ModestMoney
Can Your Emergency Fund Actually Create an Emergency?@opportunitiesaplenty
 5 Ways to Motivate Yourself to Save @ Pickthebrain
Using Dogs of the Dow to Buy the Best Dividend Paying Stocks @ MyMoneydesign
 Photo by: Tax credit