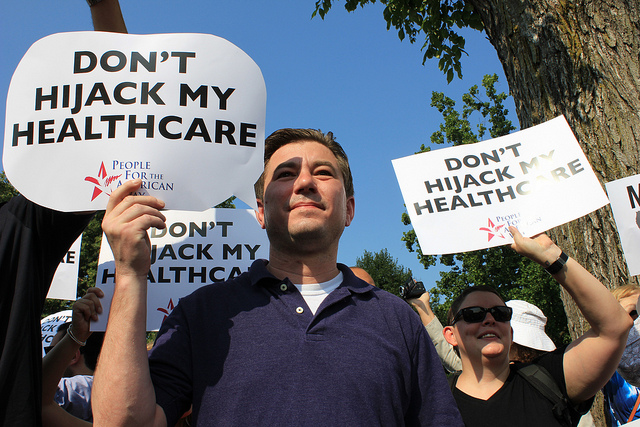 Americans  anxiously awaited — for the last several months — for this historic day. Supreme court's verdict on the constitutionality of the individual mandate  has added a new dimension to the core principles our country stands for — it has incinerated ideals of freedom and personal responsibility.
While news-media has focused on the new battleground this verdict provided for both Presidential contenders, it's worth thinking about the nuances of what the Chief Justice Roberts said to cast the deciding vote.
The individual mandate cannot be upheld as an exercise of Congress's power under the Commerce Clause … In this case, however, it is reasonable to construe what Congress has done as increasing taxes on those who have a certain amount of income, but choose to go without health insurance. Such legislation is within Congress's power to tax. –– Chief Justice John Roberts
1.  Taxing power of the federal government.
Affordable care will provide insurance to those who are currently uninsured. However, CBO(Congressional Budget Office) has estimated that this law will add over $2 trillion in additional cost over 10 year period. It is important to note that CBO has revised cost estimate several times in the past six months. It also claims that over 75% of the cost to cover those who are uninsured will come from the additional tax revenue by taxing families making less than $200,000 a year. Simply put, taxes will go up for most of the middle class families. Your invisible partner for life will demand more income from your paycheck going forward.
If federal government can mandate  insurance premium by imposing tax, it can also mandate additional laws to force behavior change by imposing additional taxes.  This notion of our government's power to tax and spend goes against the philosophy of our founding fathers.
2. Healthcare cost will go up.
It is good that those with pre-existing conditions will get coverage, but insurance companies will pass the cost to all Americans. It is estimated that insurance premiums will rise by 10-15% in the first several years once the healthcare law gets implemented in its entirety by 2014.
It's also possible that many employers will choose to drop insurance coverage for their employees as it may be cheaper to pay penalty of around $1000 per employee than to provide insurance. This will likely force more people to seek coverage through the exchange regulated by the government.
The bill will also be a drag on the economy as small businesses may not hire 51st employee to stay away from providing health care for their employees. Any businesses with 50 or fewer employees are not required to provide heath insurance for their employees.
It's a win for the major insurance companies as they will get more business due to the mandate. However, the cost will likely be paid by middle class families who are already struggling to keep their ends meet in this tough economy.
3.  No mandate for illegals.
It's important to remember that — while most law-abiding citizens will have to buy health insurance — the underground economy will run scratch free. I believe that fair tax can not only skyrocket our crippling economy, but also provide more revenue to the federal government's coffers to pay for this landmark healthcare bill.
No one argues the fact that our healthcare system is a runaway train, and something has to be done to control skyrocketing premiums. Nonetheless, it still remains to be seen if this bill can contain the healthcare cost at all. Ironically, benevolence of our government relies on additional tax revenue from those who are already paying more than fair share of their income. Do you agree?
Readers: Do you feel that this verdict has long-term implications on the fundamental principles of freedom and liberty? 
The Constitution is not an instrument for the government to restrain the people, it is an instrument for the people to restrain the government – lest it come to dominate our lives and interests. — Patrick Henry
(Photo courtesy: Talk Radio News Services)