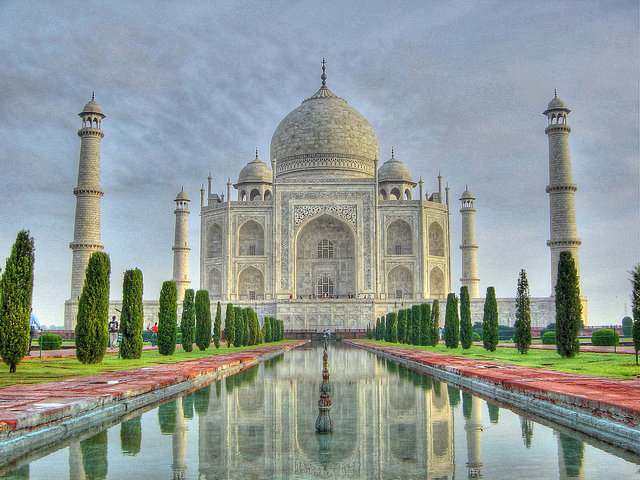 Ambition is not what a man would do, but what a man does, for ambition without action is fantasy. — Bryant Mcgill
Do you know that Taj Mahal is not only a magnificent monument of love, but also a proof of the power of incremental action? It took 22 years and thousands of workers to build this beautiful building.
Now, fast forward to our world. You've been bamboozled by TV infomercials — those that promise you an overnight success in exchange of your quick payment with a credit card.
Have you succumbed to those self-proclaimed experts promising  quick way to make six-figure income in six weeks, lose 10 pounds in few weeks, or schemes that are too good to be true? You're not alone!
While looking at this beautiful image of Taj Mahal, it dawned on me that success lies in the power of incremental actions with purpose. That's it!
Those thousands of workers who built Taj Mahal were building a part of the Taj, but emperor Shah Jahan knew exactly what he was building. Your life is no different than that. The power of incremental actions can take you to your success one day at a time.
You can achieve amazing results with persistent, incremental actions. Even though results are nothing less than spectacular, you don't feel its significance due to persistent daily effort over the years.
1.  As a boy, Agassi hit 2,500 tennis balls a day; that's 17,500 each week and  nearly 1 million practice shots per year. How can you not become next Agassi if you hit 2,500 tennis ball a day?
2. This is my 69th article on this blog. It's hard to imagine, but this blog is only 5 months old. If I can keep writing for  6 years — at this rate with passion — I will have enough articles to publish more than 10 books.
3.  If you save just $5 per day at a young age, at a rate of 6% per year, your account will grow to over $295,000 in 40 years. With your supplemental Social Security income, you can live like a king in anyone of these countries.
4.  If you save few hours a day to read anything that excites you, you can read 120 pages a day. You can read on average one book every two days and 15 books per month. You can become an expert in your field in less than 6 years without going to any college, if you are willing to spend extra 5 hours a day reading or learning what excites you most.
5.  I'm a big fan of Virgin Health miles program. I just noticed that I walk little over 14,000 steps per day; that's over 5 million steps per year, or 2,555 miles a year.  I didn't realize that I am walking all the way from New York to Miami and back to New York once every year. Just kidding. I don't live in New York.
All of these acts — if implemented in your life — form habits for a lasting success. These aren't acts of overnight success or effort, but sticking with these choices for a long time can form the foundation for a mammoth success. And they don't cost you as much as — those infomercials — you paid to buy fake promises.
Financial independence is not limited to those fortunate few who can hit the big jackpot, or those who were born with silver spoon in their mouth; rather, it is almost inevitable to those who clearly define their financial goals and take incremental, measurable action everyday.
Have you heard the popular expression, "Slow and steady wins the race"? Given enough time — with persistence and the power of incremental action — you can beat anyone, in any race.
Any good habit with consistency takes you a step closer to your goal post, but a bad habit with consistency can take you two steps away from your goal post. You wake up everyday and make lots of choices. Why not choose actions that are congruent with your aspirations and loftier life goals? Why not become — or at least try to — another Michael Jordan who practiced everyday for years even after becoming MVP?
 Energy and persistence conquer all things. –– Benjamin Franklin
(Photo courtesy: AyeKay)