In my adult business life I have never had to make a choice of trading between professional and personal. I tap-dance to work, and when I get there it's tremendous fun.- Warren Buffett
Who Wants to Be a Millionaire has been a phenomenally successful show. After all, who doesn't want cool million bucks? Most people think of having a cool million as a pipe dream. They think that cure-all for their happiness lies in the pile of cash hoard.
A stereotypical view of wealth is to have abundance of materialistic possessions. I get that. But, like anything else in life, your stuff has a tipping point. It reminds me of a famous bell curve that we've all learned in our school days. Your happiness increases with stuff you acquire — but once you hit the top of the bell curve — something happens to your happiness. It starts dwindling.
A dear friend of mine called me last week. What ensued in that conversation made me think about an ideal life. How do you want to live — regardless of where you are financially — if you have to design your ideal life?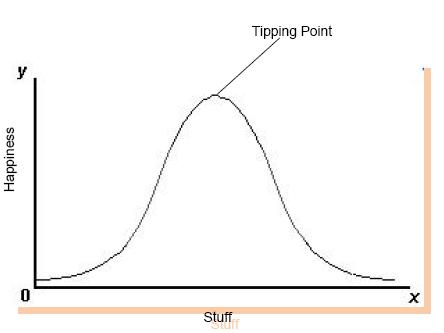 Friend: I've been trapped in somewhat ambivalent thoughts for a long time. I make six figure income, but I am not happy at all. I go to work just for the money.
Me:  What's holding you to quit that job? I know that you are financially sound.
Friend: What will people say if I quit job and manage my portfolio?
Me: Do they care if you are happy or not? Who are they? They are some made-up personalities that are governing your life. Your happiness knows no bars. You need to squash that bug to live happily.
Friend: I have passion for personal finance. I love investing in securities that can generate income to live happily without working. In fact, I would like to teach people how to do it.
As he was speaking, I felt that sheer joy and abundance of happiness flowing through his conversation. I knew that he has deprived his soul for his true calling to satisfy societal perception of what he should be doing. He wanted to spend time to focus on what he loves to do, but he has been imprisoned by his self imposed limitations. The change was inevitable for his happiness.
Needless to say, he decided to quit his job. He thanked me for the advice, but I knew deep in my heart that he didn't need anyone's advice. He needed to hear his inner voice.
Have you been trapped in 9-5 grind that you hate? Contrary to conventional wisdom, power to pursue your true calling lies between your two ears. Think about it.
An idea life
Will you trade-off your happiness or health for wealth?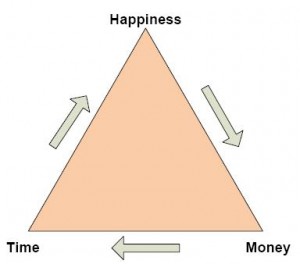 The ideal life is one that let you do what you dream of doing in your retirement. Think about it. Your ultimate goal is to become happy, so if you are doing work that gives you abundance of happiness then you are waking up everyday to have fun.
On the contrary, if you are doing work for just making money then it's an oxymoronic act because you are trying to make money with the hope to do things you love to do so that you can become happy.
Have you ever written top three things you want to do in your life or who you want to become? If not, now is the time. The change has to occur in your own subconscious to demand nothing less than your ideal life.
It's alright if you can't quit your job tomorrow assuming that you are treading time for money. But, it's not alright if you do nothing about quitting your job someday to trade money for your finite time on this earth. Start making small changes. The biggest obstacle normally is your financial constraints. Start removing excess from your life so that you can shift your focus from financial survival to living your dream life.
You can slowly build dividend portfolio to replace your income $100 at a time or  invest in a business that you enjoy doing.
Make a habit of making incremental change so that you are shifting your goal to create more discretionary time than making more money.
Wealth is a relative term. You are not wealthy if you are miserable with pile of money. You are wealthy if you get to do what you love without allowing money worries to creep in your happy mind. Are you wealthy?
If you're doing something you love, you're more likely to put your all into it, and that generally equates to making money. – Warren Buffett
 Readers: Are you living an ideal life? If not, do you know what transformations your life will need to live an ideal life?