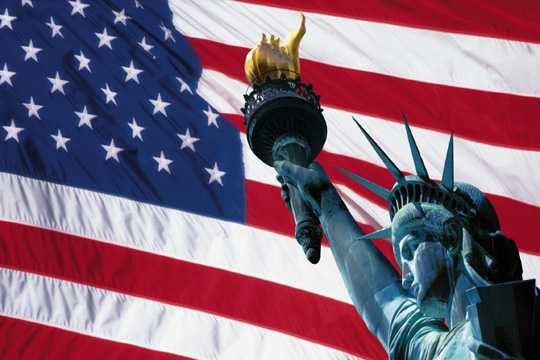 I am the American Dream. I am the epitome of what the American Dream basically said. It said, you could come from anywhere and be anything you want in this country. That's exactly what I've done. — Whoopi Goldberg
It's hard to not think of those million souls who have fought for the greatest gift we all cherish — to have liberty, justice and our way of life by pursuing American dream. If you've doubts — with the economic meltdown of the past three years — about your American dream, you are not alone!
Despite all the rhetoric from our politicians and close to a double-digit unemployment rate, American dream is still well and alive.
I've personally known scores of people from different walks of life succeeding against all odds in the past three years.
I recently stumbled upon a press release from the Washington University in St. Louis about a class they offer. The headline: "American dream still possible, but more difficult to achieve."
The very attempt to juxtapose words possible and difficult made me think. I am not insinuating that what is taught in this course — I don't even know the content — is wrong. I am simply challenging the premise that American dream is difficult to achieve.
 American dream is alive.
There are countless people around the globe risking their lives to come to this great nation. They risk it all by escaping tyranny to come to this promise land and build successful businesses.
Henry Taylor from Hattiesburg, Pennsylvania is proving that no matter who you are  and where you come from, American dream is as promising to you as it ever was to those Mayflower immigrants who first arrived to this promise land in November 1620.
This little story of inspiration makes the fabric of the American dream. It's the quintessential example that academia ignores to teach. In fact, this inspirational story is enough for our young generation to learn from.
This is my humble attempt to dissect essence of what I've learned from this story about pursuit of the American dream.
1. Always think of opportunities.
When Henry arrived in Hattiesburg, he didn't even have a car. So, he had to use taxi service for his transportation needs. He noticed that the service was not good enough. He found an opportunity. That led him to have an American dream to own his tax cab service. He lacked wheels but he didn't lack courage to spot an opportunity.
Have  you ever squandered the desire to pursue your dream when you noticed an opportunity like the one Henry did? We all have.
We allow our mental block to kill our dream by thinking why we can't pursue our dream. If you think of adversity, think about Henry. Albeit, he didn't have even wheels when he spotted an opportunity, he was determined to pursue his dream.
He had little money to invest.  So he ended up buying a junk car first to launch his cab service. If you ever think that money is the reason you can't pursue your dream, you need to overcome the biggest mental block to move forward.
2. Live it every moment.
Forward ever, backward never.  — Henry Taylor
Henry proves that there is no room for second guessing once start pursuing your American dream. His cab is his office. He gives red carpet treatment to anyone who seeks his cab service.
Squash the bug of negativity; drive forward with vision and fully immersed yourself in the journey with the goal to achieve your destination.
I believe that American dream is alive for those who are happy now with their journey in the present moment; they have mapped out their destination vividly.
3. Have gratitude.
I'm very happy to be in this country, to be in Hattiesburg, and to be in this business.  — Henry Taylor
Despite the success with his business, Henry is humble. He has not forgotten that he is successful not only by his stead fast commitment to pursue his dream but also by his pastor who helped him grow his business.
Most immigrants succeed in their efforts to build successful businesses not because they are greedy or they work to accumulate wealth. They are successful because of their passion and gratitude for the opportunity this nation offers without bias to their race, color or gender.
Most Americans live life way difficult to fathom for the rest of the world. I have immense gratitude for this great nation for giving me the very opportunity when I came here with nothing and successfully achieved my dream.
I wish that, someday,  my daughters will travel the world to experience how people from all walks of life struggle daily to drink even clean water. I know that they will have more gratitude for those great souls who have fought for the justice, freedom and American way of life.
Readers: What is your American dream? Do you believe that American dream is still alive? I'd love to hear your thoughts.
I'm in a weird band. We've done very well. The American Dream is alive and well.  — Gene Simmons