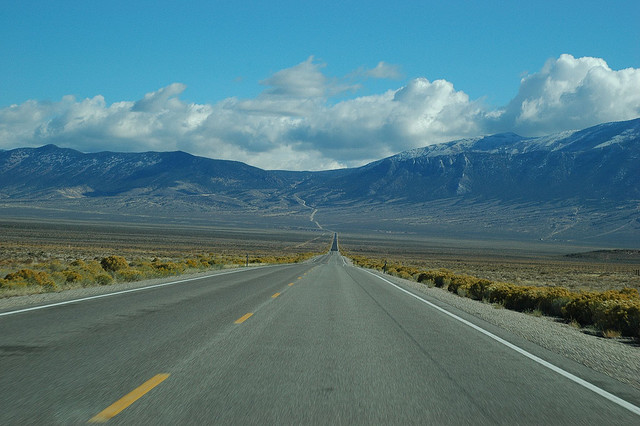 I must have a prodigious quantity of mind; it takes me as much as a week, sometimes, to make it up.
– Mark Twain (1835-1910) U.S. humorist, writer, and lecturer.
Several days ago, I was driving on a free way — listening to music — in a relaxed and calm state of mind. I felt peace, a sense of deep serenity.
All of a sudden, I felt a jolt of emotional impulse as if life train came to a screeching halt; life posed me with a split second decision to ride on either side of the highway that was about to split. I was terrified; a tidal wave of worries splashed over my frightened face.
I realized that time was of essence, and I had to make the right decision. What if I'm wrong?I remember murmuring to myself. Moments of calmness were filled with self-pity, angst and feebleness. A black mustard dawned upon my ability to think with boldness in the face of this challenge.
We all have felt this daunting task of decision-making paralyzing our ability to embrace that moment of challenge.
I pulled the car on the side line as if I was a hapless driver pleading others to show me the pathway that wasn't clear in my mind. I sat in the car with closed eyes and — with music still playing — pulled a piece of paper to write the prescription for this disease of mine called — Indecision.
1. What's my purpose?
Often, all roots of an evil reside in our lack of willingness to know who we are. The creator who sent us on this earth has defined our purpose, and safeguarded that with the intent to arouse our curiosity about what inspires us. We have to walk the pathway that leads to that safeguarded purpose which fills our heart with abundance of will power and unwavering faith to make difficult decisions. Without purpose, we tend to react to the circumstances without clarity. Obviously, lack of clarity injects tidal wave of fear and self-pity that shuns our logical thinking.
For the past 33 years, I have looked in the mirror every morning and asked myself: 'If today were the last day of my life, would I want to do what I am about to do today?' And whenever the answer has been 'No' for too many days in a row, I know I need to change something.  — Steve Jobs
2. Defeatist mindset:
I could have applied my instinct and gut feeling to take either side of the split on that highway, but I did not. What happened? First, I couldn't conjure boldness to accept the failure in case if I end up making wrong turn. In reality, even if I made a wrong turn, I knew that getting back to the right lane would be easier as I'd have eliminated the wrong lane with my mistake. Mistake, huh? How can I make a mistake? My ego kicked in with full savor. Second, a fable of fear surmounted my feeble mind like an octopus. I was defeated  in my mind before battle even began.  Damn, I will be wrong again, I affirmed. True, I was wrong not because I may end up making a wrong turn, I was wrong because  I was sitting on the s side line pleading for help from bystanders who looked at me with grimness.
3. Obsession to please others:
While sitting at the cross-road, I pulled my cell phone with courage to call my friend to ask, "I'm lost, can you help me find the road leading to your house?" My fingers refused to dial the phone and eventually forced me to abandon false hope that I harbored for few seconds. What happened? My ego —  as always  — took rein with its daemon sprawl to binge my thoughts of pleasing others. How can I look so idiot to my friend who thinks I'm the pot of intellect? No, I can't call him, never!
All three symptoms crippled my ability to stay calm, relaxed in the face of this challenge to take  a decision. I realized that while my car was sitting on the sideline, others were driving with confidence chasing at full speed ahead on the pathway of  success. I was at standstill. Not making a decision was costing me abundantly more than to have courage to wiggle through the possibility of making a wrong decision.
How can I get my car back on the highway again?
A burst of positivity swept the black mustard of feebleness. I gathered courage to think and to move on with my journey no matter what it takes.
1. I need to know where I'm going and prepare for the route:
Knowing my destiny is an act of self-awareness. Knowing my strengths and weaknesses prepares me for the long  journey — with countless bumps that are inevitable on the way. What matters most is knowing where I'm going and instilling the seeds of success, even before I begin my journey. No intellect or will power survives the tidal waves of worries that come and go in our lives without knowing where we are heading with conviction.
2. Squash the bug of negativity; inject fuel of positivity:
It's vital to win the battle in your mind before fight begins. Your mind often deprives you of decisions clandestinely. It becomes your own worst enemy. We have to remember that we are still the masters of our body and mind. Squash thoughts of negativity that cripples your ability to think. Squash the bug that sings, "I don't know what to do". Instead, inject fuel of positivity, "I will seek and find the righteous pathway. I know where I am heading!"
3. Seek for help when needed:
Leave your ego in the closet before you leave your home. It's the prime culprit when it comes to indecision. Instead, feel calm and relaxed knowing that you are seeking help from others to accentuate your journey to success.
When you are happy knowing your strengths and weaknesses — when you love what you do, when you learn to love failures, when you transcend fear into confidence — making decisions becomes as easy as plying roulette!
Remember that on the pathway to success, failures are the bumps to shake up your confidence. Those bumps can't and shouldn't win against your willpower to drive towards your destination — only success!
In a minute there is time for decisions and revisions which a minute will reverse.
– T. S. Eliot (1888-1965) American-English poet and playwright.
(Photo Courtesy: SFAntti)