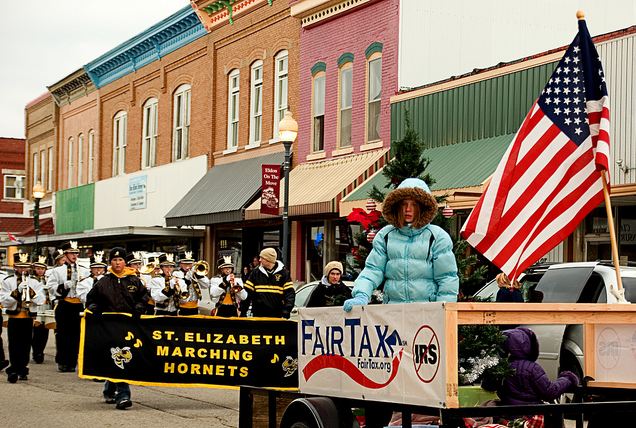 The hardest thing to understand in the world is the income tax. — Albert Einstein
Do you know what's the biggest marketing ploy ever in American history? You may think of John Pemberton who made Coke household name by trying to sell it as patent medicine. If so, you are not alone!The biggest marketing ploy ever was the system of withholding invented by our beloved government.
Imagine that you are making cool $100,000 a year. On the dreaded day of April 15th, you have to write a $28,000 check to Uncle Sam. You will have different view about our government and value of handing over your hard-earned money to bureaucrats in Washington.  Most people never realize how much they pay in taxes mainly due to the clever system of the income tax withholding.
It may surprise you to know that Americans opposed income tax withholding when it was proposed in 1942. Beardsley Ruml came up with the biggest marketing ploy in the history by offering Americans one year abatement on their taxes to gain support for his tax withholding plan. If you can imagine — the ploy worked! Now, we pay taxes without even knowing how much we pay.
I sold a hotel in 2008 as my property tax bill skyrocketed from $38,000 to $52,000 in one year. I appealed my bill as business was already down in 2008. After several months, I went to see the gentleman who assessed my property at the tax assessor's office.
Officer: After careful consideration, we've decided to keep your property taxes unchanged.
Me: How's that possible? If you assess based on the income, value has gone down a good bit.
Officer: Well, it takes over $3 million to replace this property; I think we are fair.
Me: Really? Can you buy it from me? I will be glad to sell.
Officer: I can't but have you tried to sell?
Me: I don't think you understand my viewpoint.
Officer: I have some advice for you. Are you well-educated?
Me: I have master's degree in Engineering. What that has to do with the hotel?
Officer: I suggest that you find a job and let your wife manage this hotel.
Me:  Pardon me sir, I don't think I need advice from a government officer who has never invested a dime in his life, I bet. And, for your knowledge, I already have a full-time property manager. It doesn't matter if I have a job or not.
Officer: Good luck sir. I think you have means to pay taxes.
Me: Thank you for your financial counseling. I really appreciate our local government's desire to empower small businesses to grow.  You will hear from me soon sir when I sell my hotel and never consider doing business in this state.
I ended up laying off few employees just to pay property taxes as business had taken turn for the worst due to $4 per gallon gas price back in the summer of 2008.
This personal incident made me think about taxes we pay to our government and its impact on our personal economy. I would have not sold that hotel if property tax was in tandem with the revenue. And — I know that — if property taxes were eliminated all together then I'd have hired more employees or would have built a small restaurant on the premise.
Enter the fair tax plan. It's an amazingly simple plan to skyrocket your personal and our national economy.
Imagine that you keep all the money that you earn. You won't have to worry about calculating your take home pay anymore. If your state government enacts the fair tax plan then how nice will it be not to pay property taxes on your primary residence or commercial property?
We are not talking about depriving our government from the tax revenue. In fact, everyone including those who involved with the underground economy will pay 23% sales tax. It's even better for us frugal freaks who spend less and save more.
American corporations have squirreled away over $13 trillion dollars overseas to avoid record corporate taxes. There won't be any payroll or corporate income taxes under the fair tax plan.
Alan Greenspan predicted that $13 trillion can comeback to our country within six months after the federal government enacts the fair tax plan.  Can you imagine how many jobs $13 trillion can create in America?
When you buy a car from Honda, price of the car already has embedded payroll and FICA taxes that Honda pays to the government on its employees' behalf. Corporations don't pay taxes. They simply collect taxes from consumer and pass it on to our beloved government.  Fair tax will ease the pricing pressure and somewhat offset higher sales tax we pay by offering goods at lower prices.
For long, politicians and lobbyists have used favorable tax breaks for big businesses to promote one business or another at the cost of taxpayers. Our 1.3 million page tax code is impossible to understand for even the brightest among us.
Imagine how efficient our government will be without major lobbyists influencing law makers' decision to impact our lives.
Imagine how fearless you feel when there is no IRS? Most people opt out for the standard deductions even when they know that it's costing them money because of the fear of IRS audit.
Imagine how simple it will become for an entrepreneur to open a business using services such as Legalzoom, once politicians stop picking winners and losers based on what they consider fair tax brackets for certain income groups?
You can even argue that our government will have more revenue with the fair tax plan. Why? Instead of about 160 million Americans paying payroll taxes, over 300 million people will pay taxes considering the fact that tourists will also contribute to Uncle Sam under the fair tax plan.
What about Social Security and Medicare Programs?
When President Roosevelt signed Social Security Act into law on August 14th 1935, 17 workers contributed for every retiree. Now, only 1.75 workers contribute for every recipient. The system is on its way to become bankrupt in next 40 years or so as more baby boomers will retire. With the fair tax plan, our government will have everyone in the nation — including those who are not legal — to fund the Social Security and Medicare programs.
 Tax foundation estimated that it took $203 billion dollars for corporations and citizens alike to understand and fill those tax forms in 2003. If I can guess, cost must have risen further. This gives you an idea about the complexity of our tax system and its enormous drag on both your personal and national economy.
It may never happen in my lifetime to see fair tax in this land that I love, but I am an optimist and I believe that this great nation will awake one day and embrace this simplest plan to skyrocket our economy.
An income tax form is like a laundry list – either way you lose your shirt. — Fred Allen
(Photo Courtesy: Double_Nickel)