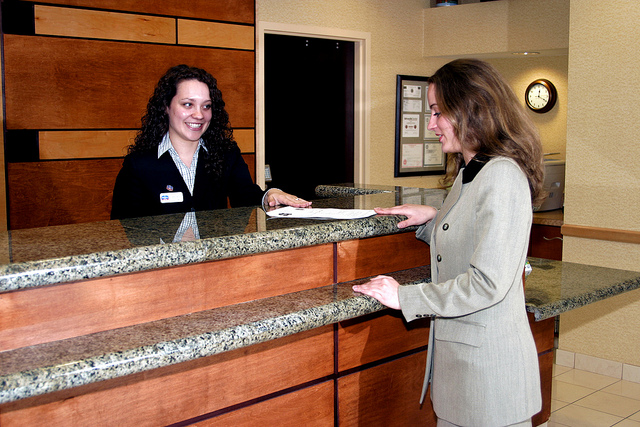 In conversation the game is, to say something new with old words. And you shall observe a man of the people picking his way along, step by step, using every time an old boulder, yet never setting his foot on an old place.
– Ralph Waldo Emerson (1803-1882) U.S. poet, essayist and lecturer.
We meet with people from different walks of life daily. Some we regret to ever have conversation with, while others struck cord instantly and become friends. It's a perpetual, and somewhat inevitable aspect of our daily life to have conversation either on-line as I do as a blogger with so many friends with whom I share my life and experiences or off-line while jogging, traveling, at work and at business.
While conversations have incredible power to transmute our thoughts into expressions in our life, it has even greater influence on the success of the business. I read — in Harvard Business Journal — that generating new business takes three times more effort compare to keeping business that already exists. Obviously, it is a self-proclaimed death for a business to ignore the customer base that already has done business in the past. On the other hand, it's a blessing out of the blue sky for any service business that has honed the skill to keep customers saying,  "I will be back."
If you happen to have an online business, join a trade association to market your business like the big guys do.
I am in hotel business. Naturally, my experiences stem from guests who feel exuberant when they come back and say,  "I am back."
There are many factors involved in the influence process that creates a happy, friendly repeat customer base. Sometimes best of efforts go in the vein to create that influence. Nonetheless, friendly conversation has an immense role to play in building rapport with guests who ultimately connect with the caring, compassionate friend behind the desk more so than any amenities and luxuries of a hotel can ever impress their wildest imagination.
I am inspired to write this article after watching Jim Cannon — whom I consider a dear friend more so than an associate — has shown me that by engaging people in conversations that matter most to their lives is the single most asset one has to develop to succeed.
In early 2008, I was at the desk when I met with an eighty years old young lady. She said,  "I am back."  I was awe stuck for a moment. I saw exuberance on the face of an eighty years old as if she was eighteen. She wanted to talk to Jim. She wanted to share her world of past week with him since she stayed at our hotel while going to Florida.
Art of  conversation is invaluable for the success of any service business. I've  found five keys to Jim's finesse over the conversations with customers.
The great gift of conversation lies less in displaying it ourselves than in drawing it out of others. He who leaves your company pleased with himself and his own cleverness is perfectly well pleased with you.          – Jean de la Bruyère (1645-1696) French satiric moralist.
Key # 1 – Look them in the eye, smile
Conversations begin usually when we have not spoken a single word. Yes, it may sound silly but the fact is that when we come close to hundred feet distance with someone, our thoughts have already directed our actions in terms of our expressions before a word is exchanged between two human beings. I've seen Jim with warm, confident yet friendly smile as soon as someone approaches him close enough for the greeting. That's a great start ; I believe that in public speaking, if you do not convey gist of your message in first sixty seconds, you lose the audience no matter how prolific you are. Similarly, business conversation has an initial threshold of first sixty seconds. A warm, confident greeting with smile is essential step in building friendly, lasting conversation with the customer.
Key # 2 – Don't mutter, please
How many times have you been to a restaurant or a bank and found the person behind the desk feeble by judging the way he/she speaks with you ? When someone mutters with egg face than showing energy and grace with confident greeting, we get feeling of rejection. I am seeing Jim with clear, confident greeting next that sets the stage for lasting conversation. He speaks clearly with sparkling eyes and warm grin to immediately connect with the guests.
Key # 3 – Learn the names, Everything is in the name, damn it
When Shakespeare famously said,  "What's in the name ?", he obviously did not bother to consider twice over the art of conversation. Every thing is in the name, damn it. We are all hungry to satisfy our ego when it comes to what matters most to us. I feel ecstatic when I hear my somewhat unusual name gets remote resemblance with great French composer Chopin even though I have not a single gene of music in my body. My friend Jim has acquired the art of knowing guest's name and making a must ritual while greeting with guest who ever had pleasure to be dealt with by Jim. No doubt that learning to use customer's name with respect and courtesy works like a glue that builds a friendly conversation.
Key # 4 – Develop knowledge that matters to your customers
As you command the respect of your customer with confident smile and proper greeting with name, conversation begins. A conversation that requires the taste of likes and dislikes of the customer. I often hear Jim asking passing by guests,  "Where you folks are heading ?" . Once he knows their reaction, he centers his focus on what's on guest's mind. If they are heading to the myrtle beach –of course –they wanted to know more and talk more about the beach. If they are from New York with a Yankee cap, Jim knows enough about Yankees as well. People like to listen what interests their appetite and not that of others. A conversation fails when focus shifts, from "I love this talk" to "What's in it for me pal ?". Being versatile is a must virtue of great conversation. With general understanding of politics, religion, sports, entertainment and world events, I have been amazed at the articulateness and depth of conversation and friendship that ensue as Jim converse with the guests.
Key # 5 – They are paying you to listen, let them talk
Dale Carnegie has written at depth of importance of listening. Simply put, people like to talk. We all have innate desire to speak as speaker enjoys the pride of leadership while engaged in a conversation with others. Give them what they want. Let them speak without interruptions. They love to share what happened to their beloved dog last night. So be it. A prolific conversationalist, like my friend Jim, learns enough about their dog to speak what matters to the guest. No wonder, all of those who travel between mid-west and south-eastern states, loved to stop and stayed at our hotel just to speak with Mr. Cannon. A worthwhile journey, indeed.
No matter whether you are an IT consultant or CEO of a fortune company, art of conversation plays key role in the success of your career or your business. Do you agree?
(Photo courtesy: Mckibbon Hotel Management)
The best efforts of a fine person is felt after we have left their presence.  —– Ralph Waldo Emerson (1803-1882) U.S. poet, essayist and lecturer.