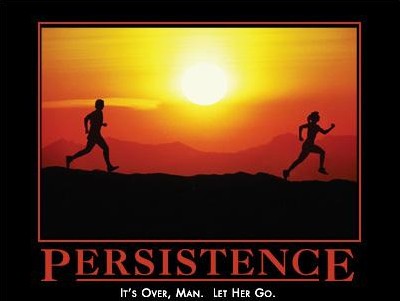 What makes someone earn a place in an elite A-list? Why some can achieve pinnacle of success that most consider a pipe dream? Is there a secret key to their success?
If any of these thoughts have ever flickered your mind — you are not alone!
A-list is an elite group of people who have not only achieved  success, but also defined new standard for success. You can vividly visualize Michael Jordan with Basketball, A-Rod with Baseball and Leo Babauta with the world of blogging.
The secret key to their incredible success lies in one simple word  — persistence!
This simple revelation hit the nail on my head when I stumbled upon Barbara's article several weeks ago.  It made perfect sense when I looked at my scorecard of success and failure.
I have two events to share with you to prove that — above all the factors that are required to be successful — you have to be persistent to be successful.
Our greatest weakness lies in giving up. The most certain way to succeed is always to try just one more time. — Thomas Edison
1. Build relationships.
Let's rewind back to 1998. I worked for Johnson & Johnson and I was visiting a plant located in a small town in North Georgia. I saw a new hotel on the outskirt of the town. I went inside and asked if it was for sale. Sure enough, it was.
Next day, I called the owner to see his interest. We met at the local Denny's to discuss the deal. Ira told me that he was upset with someone who walked away from the deal so he was not interested unless I can put $100,000 in non-refundable escrow account. I told him that I respect his sentiment but I can't give non-refundable deposit.
Several weeks later, I called Ira and offered him dinner at his favorite restaurant. He accepted. We met and talked about everything except the hotel deal. For several months, we met regularly and shared our personal stories with each other.
In these months — unknowingly — I had done something amazing. I built the relationship with a much older gentleman who shared all his feelings without any restrictions. In fact, without my knowledge, I was being persistent in my pursuit to own a hotel.
I remember one Sunday afternoon on a hot summer day Ira called.
"When are you buying my hotel Shilpan?," he said. "I only have $128,000 now because rest of the money has been invested elsewhere," I told him knowing that he will end the talk.
"Have I asked you what you have?," He said. "Don't worry, let's close the deal."
Shortly after his call, a local banker called me and informed me that he has received a letter from Ira stating that $115,000 has been received as a deposit. The bank needed $108,000 to close the deal.
Needless to say, I closed that deal.  After the closing, Ira wrote a promissory note for the money that he lent me.
It took almost eight months and countless hours of genuine friendship to make my dream come true. But, it happened. It was the power of persistence at work.
This event taught me that even if I fail at making deals, I shall never fail at building relationships. I can't change circumstances to influence outcome but I can change my reaction to the circumstance to influence outcome with persistence.
2. Never do anything just to make money.

In early 2008, I began blogging without knowing anyone on the blogoshpere. I quickly made some great friends.
Within six short months, I was getting over 100,000 page views as my articles were hitting the front page of Digg regularly.
I was about to reap the fruits of my labor with an offer to partner with likes of Mary Jaksch and Leo Babauta. And, I quit blogging. Why? I started comparing my time consumed between businesses and blogging. I was making way over six figure from my businesses while I had not made a dime from my blogging after having 90,000 unique visitors per month. I didn't realize that I missed my success with blogging by getting so close to it — I was not persistent!
3. Rule of 80/20
I've learned some invaluable lessons of success from these experiences. Those who succeed are not necessarily genius right out of the box. They have done something that 80% of people don't. They keep working on their passion till success knocks their door. They remain persistent not because they can predict the outcome of their efforts with confidence; they remain persistent because of their steadfast focus and maddening dedication towards goals.
Your name can be in this elite A-list if you learn to focus, make commitment not to quit and stay persistent no matter what it takes to succeed. Do you agree?
 Never, never, never, never give up. — Winston Churchill