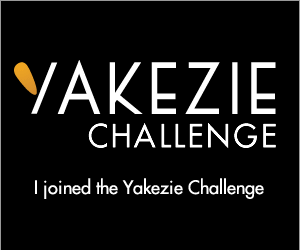 It's been little over a month since I launched this blog. Today, I have decided to join the Yakezie challenge.
Yakezie is a group of passionate bloggers, who are committed to write and share quality content. Sam came up with the idea to unite bright, talented bloggers to share and promote best of the personal finance thoughts — to make real impact on the lives of others selflessly.
I found Yakezie through one of the blogs — Money Cone — I stumbled upon while researching for an article that I wrote few weeks ago. I've been an ardent fan of Money Cone and Yakezie network since then.
I believe in writing quality content and promoting quality content selflessly. And, I am fortunate that Yakezie  resonates my ideals so well.
The Web has become a fascinating platform to make our world a better place to live. No other medium ever existed before with such an amazing promise to make our large world a small community. It fascinates me that it takes just few clicks to convey my thoughts and to get thundering response from someone who lives thousands of miles away. It's simply incredible!
And, the likes of Yakezie offers even better promise — to connect with like-minded, talented people who selflessly help others by writing one awesome article at a time.
This challenge has made me more resolute than ever to become engaged and to share my true beliefs and ideas with the hope and aspiration to make this world a better place to live. And to cherish this wonderful gift from God — this beautiful life!